We're constantly finding ways to improve the way we conduct our day-to-day life. Anything that can make our lives easier is happily welcomed. And digitization has played a huge role in easing our lives, whether it's the way we shop, do our mobile recharges, conduct bank transactions, etc. Another such thing that made our lives so much easier is the introduction of UPI apps.
A few years ago, if somebody told us that we would be able to make payments to our nearest grocery shop and our favourite online store with the same app, we would have laughed at them. But look at us now, using several UPI apps at once. However, did you know that BHIM UPI was the pioneer in this space? Today, let's learn more about the app and its features.
What Is BHIM UPI?
Bharat Interface for Money aka BHIM is a trailblazer in digital payments that introduced UPI payments in India. Simply put, it is a payment app that allows you to make monetary transactions in simple, easy steps using the Unified Payments Interface aka UPI.
With this app, you can make direct payments to a person's bank account using their UPI ID. The same can also be done by scanning their QR code with the BHIM UPI app. That's how your local grocery shop owner gets your money directly in their bank account. You can also request money from someone who owes you, making this a two-way process.
Significant Features Of BHIM UPI App
BHIM UPI app came with a lot of features to help us make easy and quick online transactions. Enlisted below are some of the main features of the BHIM app: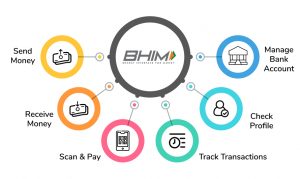 A user can send money using the receiver's UPI ID aka Virtual Payment Address i.e., VPA, a combination of their bank account number and IFSC or by scanning their unique QR code.
Request Money from People
BHIM app also allows the user to request money from people who may owe them some. However, this can be done through the person's UPI ID only.
As mentioned earlier, the app also allows you to pay by scanning QR codes through the "Scan & Pay" feature.
A user can now keep a track of their transaction history as well as approve or reject their pending UPI collect requests on the app.
The profile feature displays our personal QR Code and the Payment addresses created.
A user can check their linked bank account, set/change UPI PIN, change the bank account or even check their balance in the app itself, with this feature.
How to Access BHIM UPI App
If you haven't already been using it, follow these simple steps to download and start using the BHIM UPI app now:
Download and Install the BHIM UPI app from the Google Play store/Apple App Store.
Select your language of choice.
Select the SIM card with the mobile number that is registered with your respective bank account.
Set the passcode or PIN required to enter the app.
Open the app and link your existing bank accounts using the bank account option in the app.
Add the last 6 digits and the expiry date of your debit card to set your UPI PIN.
Now click on the "Send" option, enter UPI ID and send money to them using your set UPI PIN to authenticate the transaction. You can also use this unique payment solution without the internet. Just dial *99# from your registered mobile number and use the aforementioned features of the BHIM app.
Additionally, while using the Airtel Thanks app, you can also access your BHIM UPI account within the app itself. This will not only facilitate smooth and easy transactions but will also save you the additional hassle of having to manage a different app.