Bharti Airtel Limited Stakeholder Engagement Framework
We believe that being sustainable means taking into account the expectations of all those who have a stake in our business, our "stakeholders". This standing is based on the belief that strong and satisfactory relations with our stakeholders is the key to ensuring a long-term success of our business.
This Stakeholder Engagement framework outlines Airtel's approach to engaging and working with our stakeholders, that applies to all our operating entities and functions at a corporate and regional level. Engagement is an integral part of developing an understanding of stakeholders' needs, interests, and expectations. Therefore, the primary objective of this policy is to:
Facilitate our ability to understand stakeholder concerns and interests, and incorporate them into our processes and activities
Improve the way we communicate and engage with our stakeholders, including enhancing the clarity, accessibility, relevance, and timeliness of our communication throughout our engagement processes
Continue enhancing stakeholders' trust and confidence in our processes, decisions, and activities
Identification and Prioritization of Stakeholders
The stakeholder engagement process at Airtel follows the guidelines set in the AA1000 Stakeholder Engagement Standard. In particular, wherever feasible, Airtel integrates stakeholder engagement within its governance, strategies, and operational plans. The engagement process includes
Identification of Purpose, Scope, Ownership and Mandate
Profiling and prioritization of stakeholders
Settling of Engagement Levels and methods
Definition and Communication of Boundaries of disclosure
Drawing up an Engagement Plan
Choosing Indicators for measuring engagement activities
Identification and Mitigation of Engagement risks - through inviting, informing, and briefing the stakeholders
Evaluation of stakeholder capacity
Carefully listening to the stakeholders during the engagement
Documenting the engagement
Enhancing our engagement activities, review the outcomes of the engagement and report on engagement results.
To have a systematic approach with all stakeholders, we classify our stakeholders into the following categories:
Customers
Employees
Suppliers and Network partners
Investors
Non Profit Organizations
Regulatory bodies
Communities we operate in (including vulnerable communities such as indigenous tribal communities, below poverty line communities or other marginalized communities)
Media
The stakeholder identification process is based on the following phases:
Analysis of business processes
For each process, identification of all interested, and impacted groups
Grouping stakeholders in homogenous categories (according to relevance to the company or to the stake they hold)
Identification of priority groups within each category.
The above process helps in identification of stakeholders
who are directly or indirectly dependent on Airtel's activities, products or services and associated performance, or on whom Airtel is dependent in order to operate, or
to whom Airtel has, or in the future may have, legal, commercial, operational, or ethical/moral responsibilities or,
who can influence or have impact on Airtel's strategic or operational decision-making
Stakeholders are further prioritized according to either the relevance of the stakeholders to the core business of the company, or because the company's impact is high on a particular stakeholder for, e.g., supporting the economical or cultural growth.
Our Engagement Process
At Airtel we promote a culture of ongoing engagement with every stakeholder group to understand their needs and expectations and collect their feedback in addition to a formal engagement process every two years. The formal engagement is conducted by external third party to ensure that the stakeholder interests and concerns are captured objectively without biases. This also ensures that the formal stakeholder engagement is conducted by competent experts trained in collecting information, especially from local communities, vulnerable groups and ensure necessary capacity building of stakeholders, if required. A thorough review and analysis of formal stakeholder engagement feedback is done internally as well as by the consultant to gauge the success of the exercise.
The ongoing engagement is led by each function in every geographical region during their normal course of service delivery in line with the stakeholder engagement governance structure. Prior to engaging with a stakeholder, we define the purpose and scope of engagement and adopt appropriate engagement methods. The mode of engagement is dependent on the type of stakeholder group and the feedback that is being collected. For each group of homogeneous stakeholders, the most appropriate engagement tools and methods are identified in line with the stakeholder engagement process, ranging from one-to-one meetings, post-delivery feedbacks, point of sale feedbacks, information sessions, joint projects, surveys, focus groups, etc. In normal course of business, the engagement mode is always a mix of 2-3 methods of interaction. Throughout the engagement process due consideration is provided to make the stakeholder comfortable to the best of our ability and also appreciating their time, communication ability, awareness and other factors which may hinder their capacity to interact with us. Therefore, we assess the capacity of the stakeholder to effectively engage while selecting the method of engagement. In case the stakeholder lacks the capacity to engage (e.g. financial resources, time, language skills, cultural understanding or awareness of issues), appropriate capacity building measures are to be taken by the engaging business function, such as through assistance in overcoming the barriers of language, distance, knowledge, skills and resources, as appropriate, keeping in consideration the purpose and scope of the engagement.
Further, we also assess the potential stakeholder engagement risks prior to selecting the level or method of engagement, and devise ways to address them. Potential risks may include participation fatigue, lack of stakeholder integrity, conflicts of interest, disruptive or uninformed stakeholders, and lack of willingness to engage. Proper planning and preparation is undertaken to understand the stakeholder profile and facilitate the stakeholder to have an open and honest dialogue with Airtel.
Individual group heads are responsible for the ensuring the ongoing interaction happens in a structured manner and concerns if any are captured accurately. The group head can bring up the concern along with the stakeholder impacted during business update meetings with Airtel Management Board (AMB) members. In addition to this, a periodic briefing (at least annually) is done to the CSR committee at the Board level on updates to the business responsibility policies and stakeholder engagement.
Depending on the level of engagement and the risk associated with engagement, different kinds of stakeholder engagements are grouped under the following categories: Information, Consultation, Dialogue, Partnership. The various methods of engagement are outlined in our stakeholder engagement table below. The material topics mentioned in the table have been captured at local and corporate levels.
All our communication and interactions with our stakeholders is conducted within the purview of law, any contractual obligations (such as confidential etc.) and any other Bharti Airtel's internal corporate communication guidelines.
For each stakeholder group, on the basis of analysis of the feedback, their needs are captured, followed by a study of the possible solutions which Airtel can offer in order to meet their needs. During this stage the Company evaluates the risks and opportunities arising from each potential solution, the gaps to be filled in order to implement the solution and the effort required in order to implement such solutions. According to the relevance of the stakeholder for Airtel's core business, these considerations are integrated into Company's strategies and operations at the topmost level or the strategies and operations of a particular business unit or line. The outcomes of the entire exercise are communicated through various modes including but not limited to the annual sustainability report, through our official sustainability website, one-to-one meetings etc., to all stakeholder groups internally and externally.
Every stakeholder group has a separate grievance redressal platform in the organization details of which are present on the Company's website. In addition to this, any concerns or queries can be emailed at sustainability@airtel.com and for violations of code of conduct through email at ombudsperson@bharti.in In writing (hard copy) to
The Ombudsperson
Bharti Airtel Limited
Bharti Crescent 1, Nelson Mandela Road
New Delhi 110070

Stakeholder Engagement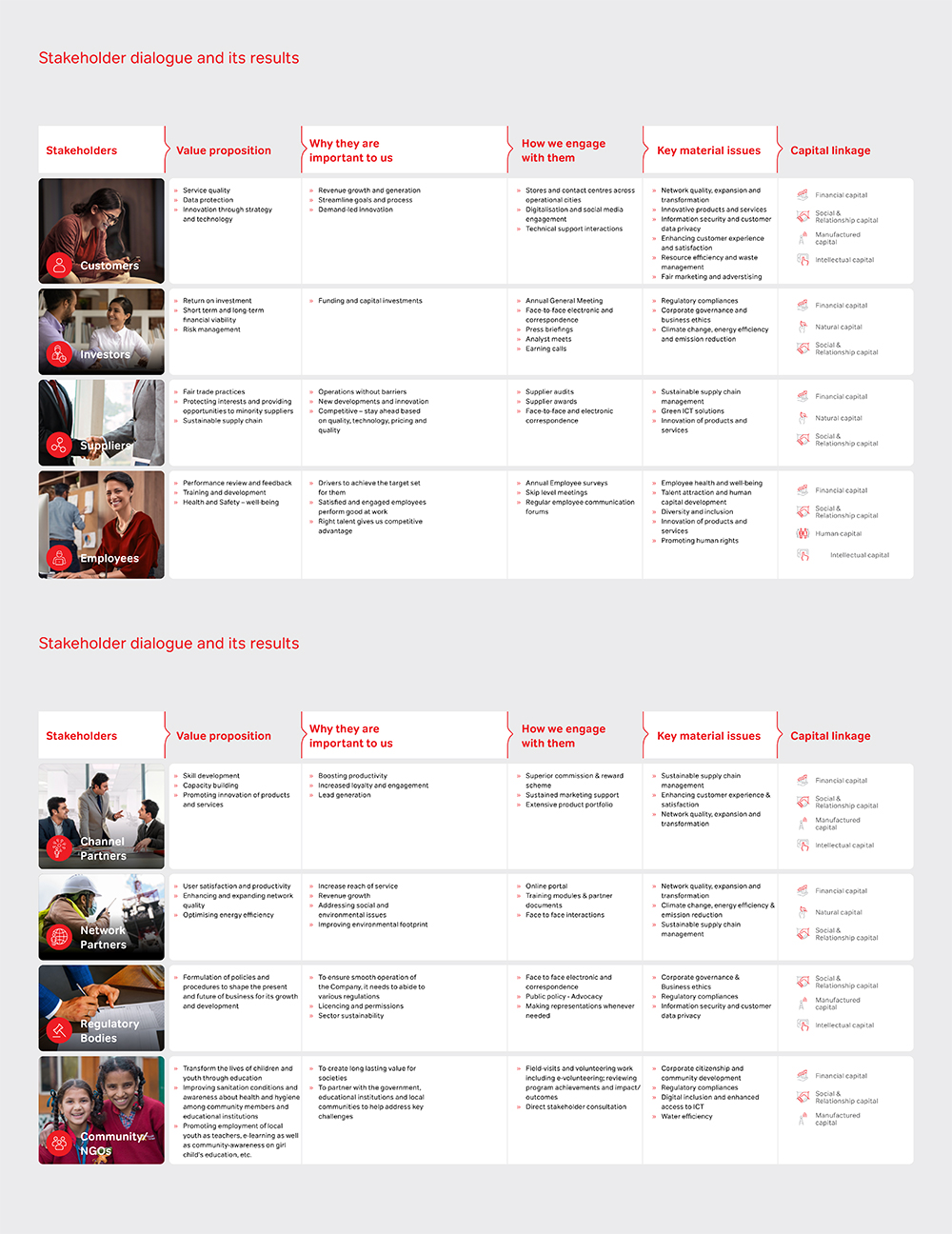 To read about stakeholder engagement click here.