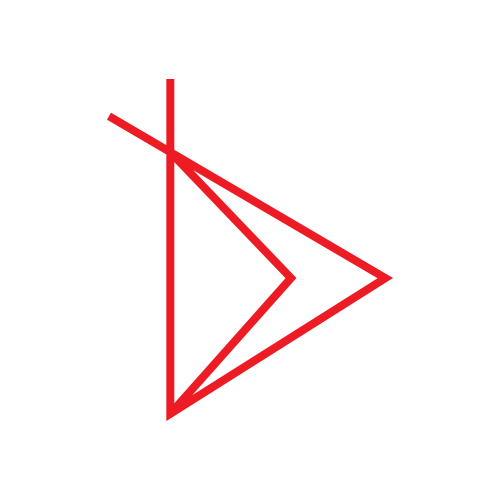 5000+ Apps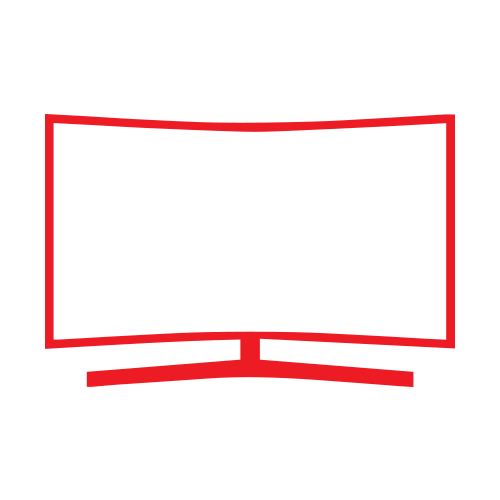 500+ TV Channels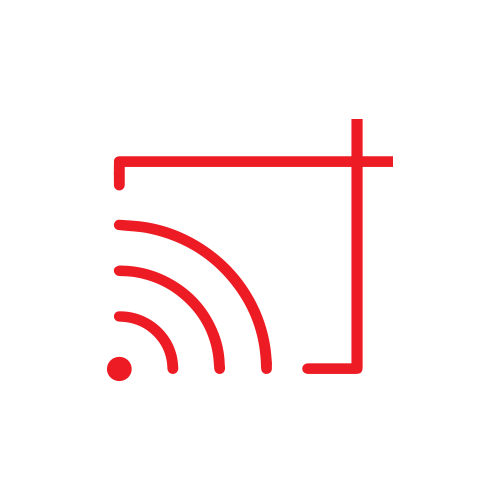 Built-in Chromecast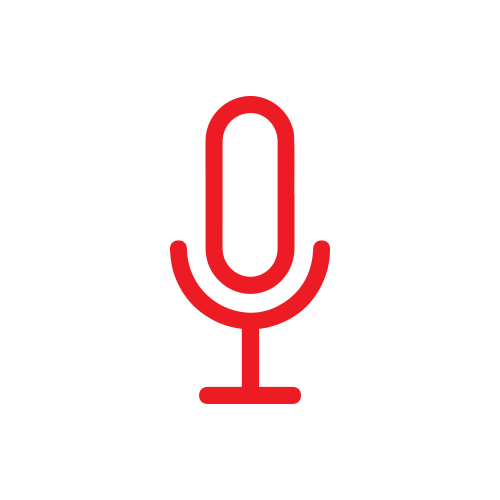 Search with Google Assistant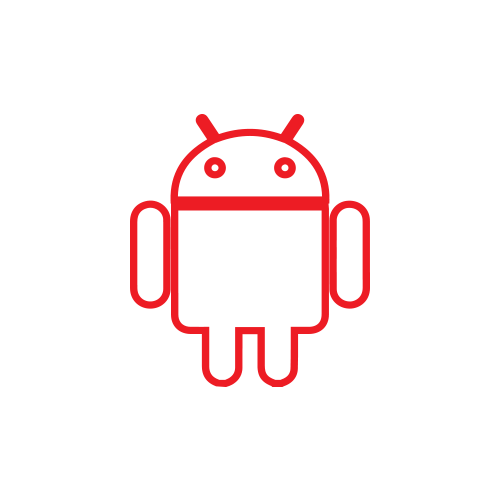 Runs on latest Android 9.0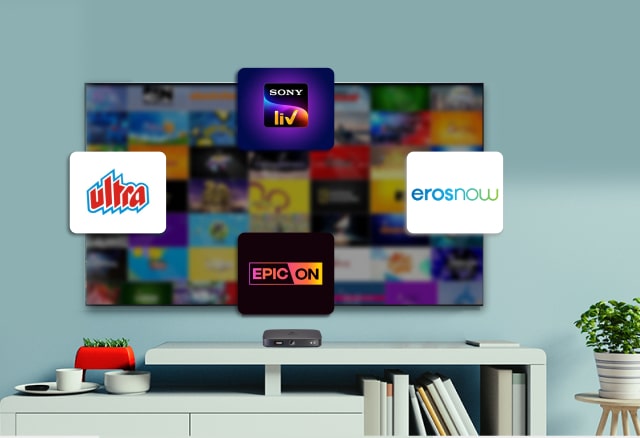 Binge big
on the Big screen
Loads of blockbuster movies and web shows across 13 languages built-in with Airtel Xstream App.
Buy Now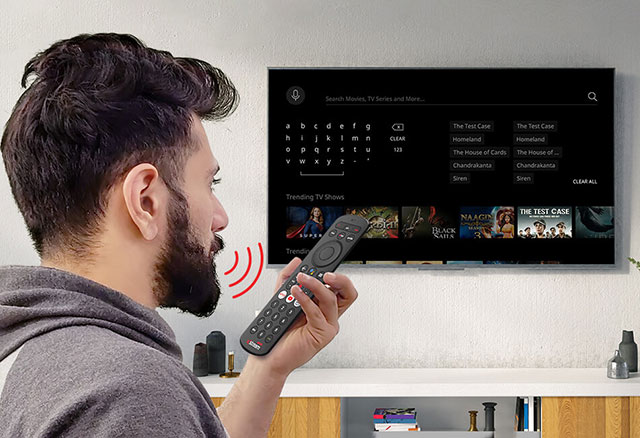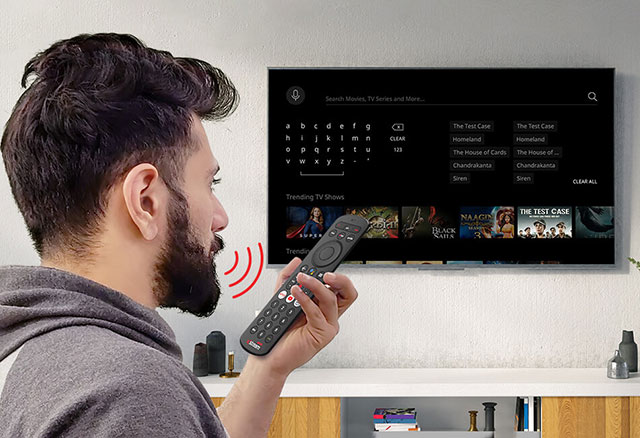 Command with your voice
Search your favourite content with the all new voice-enabled remote, powered by Google Assistant.
Buy Now
Your Apps now on your TV
Access over 5000 Apps with the Google Play Store – games, music, content and much more!
Buy Now
Experience
4K picture quality
Watch 500+ TV channels in 4K resolution for amazing clarity, realistic colours and vibrant images.
Buy Now
Chromecast built-in
Cast your favourite content from smartphone to your TV with the Google Chromecast built-in.
Buy Now
Fueled with the power of Google
Powered by the latest Android Pie, your entertainment will always be ahead of the curve.
Buy Now
Airtel Xstream FAQ's
What is Airtel Xstream Box?
Airtel Xstream Box is a 4K Android box. It is an affordable alternative to Smart TVs. Users can use the set top box to stream OTT channels and TV channels both on their regular TV with an in-built Chromecast. The box comes with its own remote that can be used to give voice commands. It is powered by Google Assistant.
How to get new Airtel smart set top box connection?
You can get the new Airtel smart box either from the Airtel website or from the Airtel Thanks app.
Submit your mobile number and installation city in the form mentioned at the start of this page and click on submit button. Our executive will reach out you with the installation process.
Or download the Airtel Thanks app. Find 'Buy' tab on the 'Manage' page of the app. Tap on Xstream, fill relevant details, and place the order.
You can buy the smart Xstream box for just Rs. 1500.
Which OTT apps are available with Airtel android box?
There are 10+ OTT apps available with the Airtel android box.
Amazon Prime
Sony Liv
Lionsgate
Eros Now
Manorama TV
Hungama Play
Hoichoi
Shemaroo
Dollywood
Divo
Epic On
Docubay
Flix
Klikk
Ultra
What are the installation charges for Airtel Xstream Box?
The Airtel Xstream box originals costs Rs. 2650. As per the current offer, you can buy it for Rs. 1500. The installation charges are included in the price.
You will get the Airtel Xstream box and a remote along with a few free OTT subscriptions.
Note: DTH recharge and OTT subscription charges are not included in the price.
Difference between DTH set top box and Xstream android tv box?
The Airtel DTH set top box is your standard HD box that comes equipped with record & play features, premium video quality and Dolby Digital sound. On the other hand, Xstream box converts your TV into an Android TV. You get Android TV features like built-in Chromecast, voice search and many more.
What are the key features of Airtel Xstream smart tv box?
The key features of Airtel Xstream Smart TV box are:
a. Xstream box lets you do voice search with Google Assistant
b. You get built-in Chromecast with your Xstream box
c. You get access to more than 500 TV channels and 5000 apps, made specifically for your Android TV
d. Xstream box runs on the latest Android version
Do you need internet connection to use android box?
Yes, you will need to have a broadband connection to be able to use your Airtel Xstream Android box. The internet connection will also help you to watch OTT content on your Android box, such as Netflix, Amazon Prime Video, Disney+Hotstar and more.
What TV channel packs available on Airtel Xstream box?
There are multiple TV channel packs that are available in the Airtel Xstream Android box. The channels packs have been designed keeping your interests in mind. In addition, you can also choose from the list of a-la-carte channels available
Can we replace normal dth set top box with Xstream android tv box?
Of course! You can replace your normal DTH set top box with the Xstream Android TV box for a far superior experience. With Airtel Xstream, you get a smart Android TV, with the very latest features, thousands of apps, and incredible picture quality.
Are there additional charges for using entertainment apps on Xstream box?
Not at all! There are no additional charges for downloading entertainment apps on your Airtel Xstream smart Android TV. You can let go of your worries and download as many entertainment apps from the Google Play Store as you want. However, you may have to pay for some paid apps on the Play Store.
What are the popular plans on airtel Xstream box?
When it comes to the Airtel Xstream box, there are multiple plans that are suited according to the needs of various users. However, to enjoy both DTH and OTT services without any hiccups on your Airtel Xstream Android box, you will have to pay a minimum amount of ₹153 each month.
Can we record tv shows & movies on android tv box?
Yes, if you want, you can even record the on-air TV shows and movies that are running on your Android box TV. Therefore, even when you miss out on your favourite serial or sports competition, you can simply play them once again.
Can you install Xstream Android box on a normal TV?
Definitely! The Airtel Xstream Android smart TV can be equipped to a normal TV as well. Hence, you do not have to spend any additional money on a new TV. Simply purchase our Android box and enjoy the very best of Android TV on your normal TV.
Can I connect a USB device in android set top box?
Sure, you can connect a USB device into the Android TV set top box quite easily. USB cables and their ports can be of different types, therefore ensure that you are using the correct USB port for the respective USB device.
How to recharge or update plans in airtel Xstream box?
Recharging or updating your Airtel Xstream box plans are very easy. You can visit the Airtel Xstream website on your computer or smartphone for changing the plans or to pay bills. You can also use the Airtel Thanks payment app for the same.
What is the ideal internet speed required for android box?
For your Android box, it is best that you get a broadband connection that provides around 70-100 mbps speed. It will also work with a 40 mbps broadband network but a better plan means you get to stream content on OTT platforms at a much higher resolution
How to create user profile for airtel Xstream box?
Creating your user profile on Airtel Xstream Android smart TV is effortless. All you have to do is Sign in to your Google account on the TV. In case you do not have an account, you will have to create a new Google account before you can access all the features of the smart TV.
How to access apps and channels on airtel smart tv box?
As soon as you login to your Google account, you will be able to access all the channels and apps on your Airtel Smart TV box. Furthermore, if you wish to download more apps on your Android smart TV, simply go to the Google Play Store and download any app that want.