Thanks to the Indian Government's initiative to create a cashless economy, the digital payment sector has seen a huge boom in the last couple of years. From launch of UPI apps like BHIM, Google Pay, Airtel Thanks, Phone pe, and others to integration of these apps and wallets at various payment checkpoints, we have come a long way in the digital payment sector.
Now, you don't to keep a huge amount of cash in your wallet to go for shopping, or dinner parties, etc. All you need to do is carry your phone with an active wallet app. Your mobile wallet can help you keep your money safe and transactions secure. Moreover, transactions made using the wallet are extremely fast. They are equivalent to paying hard cash from your wallet. You don't need to put a PIN or give OTP confirmation for the transaction.
The Airtel Wallet app is one such digital wallet that allows you to transact and pay online instantly. Today, we will discuss how you can facilitate Airtel Wallet to bank transfer.
How to transfer Airtel Wallet to Bank
No need to wonder how to transfer money from Airtel Wallet to Bank account now. Just follow the below steps:
Open your Airtel Thanks app. If you don't have the app, download it from the Google Play Store or Apple App Store.
There are 5 sections in the app – Manage, Pay, Shop, Discover, and Help. Head over to the Pay section.
On the top header of the Pay page of the app, find Pay bank account option. Tap on it. The Pay bank account is made to send money to any bank account.
Now you need to select a bank to pay. Most of the private and public banks are listed here. You can either scroll down to find the bank or just type in the search bar.
You will be redirected to a new page with a form. Fill in the details like account number, IFSC bank account, and receiver's name.
Tap on continue to proceed.
Enter the amount you wish to send to the receiver. You can also add a note with the transfer.
You can select from which account the money will be debited. To transfer Airtel money to bank account, you need to select Airtel Payments Bank from the drop-down.
Now click on the proceed button.
The payment will be complete.
Transferring money from Airtel Wallet to bank account is very easy and doable.
Airtel Wallet bank transfer charges
Airtel Wallet money transfer to bank account charges is 3% of the total transaction amount.
Benefits of using Airtel Wallet
Digital Wallets are easy to use for instant online transfers.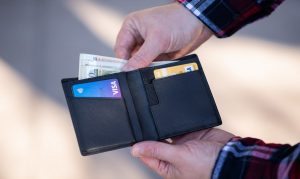 Here are a few benefits of using Airtel Wallet:
The Airtel Wallet transactions are secure with safepay and 3 FA feature.
Airtel Wallet is an RBI approved digital wallet. Therefore, it is credible and trustworthy.
You don't need to install a separate app for using Airtel Wallet.
Users can earn cashbacks up to Rs. 40 on transactions made using Airtel Wallet. The cashback offer is applicable on prepaid recharge, electricity bill payment, and booking a new cylinder service on the app.
Transactions completed using the Airtel Wallet can earn Rs. 30 regularly under the MTU rewards program.
Maintain balance in the Airtel Wallet for easy and secure FASTag transactions.
Use the wallet to shop on other merchant online websites.
These are just a few benefits of using Airtel Wallet for your online transactions. Head over to the Pay section of the app to know more.
You can also explore several other payment features available on the Airtel Thanks app. Let's take a brief look at them too.
Payment features on the Airtel Thanks app
The pay section of the Airtel Thanks app is equipped with necessary payment features for online transfers and payments at both online and offline stores. Let's take a closer look at these features.
Use the scan QR feature for quick online payments at physical merchant stores and money transfer to other users.
Send money from one account of yours to other by using the self-transfer feature.
Check your account balance and your Airtel Wallet balance.
Pay others by using their phone number, UPI ID, or bank details from the Airtel Thanks app.
Recharge and pay utility bills from the Pay section of the app.
Save payment details for a more personalized experience.
Download bills and check transaction history of your previous transactions on the app.
With payment features, so versatile, your online payment experience can be seamless.
We hope you are now aware how to send money from Airtel Wallet to bank and how Airtel Wallet transactions can earn you cashbacks and other benefits in the Airtel Thanks app.
Download the app to know more and benefit from these features today!