Cloud-based Smart Parking System based on IoT
Living in cities can be difficult. Urbanization is on the rise, and congestion in the city is becoming increasingly complex every day. It creates the need to launch an automated system that allows users to book their parking slot with just a few clicks on a mobile app. Now, the problem is quite apparent. But the big question is, what can technology do to solve it? Is there a way out? Smart Parking System means an IoT-based system that sends data about free and residential parking areas via a web/mobile app.
Smart car parking systems using IoT, which include sensors and microcontrollers, can be available in each parking slot. The user will then be able to track the availability of all parking spaces and can choose the best one. Alternatively, the user can also view the duration of the parking usage from the application, and costs can be calculated and sent to the user with the help of smart parking meters. Not only this, but the user can also decide to extend their time. All that is needed is a working internet connection.
Parking in cities: A Perennial Problem
One of the most critical problems in urban cities is car parking and traffic control systems. Finding parking space is often difficult for drivers in modern cities, thanks to the growing number of private car users.
City planners can see this situation as an opportunity for IoT-based smart parking in a busy city environment to ramp up the efficiency of their parking facilities and lead to reduced search times, traffic congestion, and road accidents.
For instance, if drivers are notified about the availability of parking spaces for their intended destination and surrounding areas, parking issues and traffic congestion can be solved using smart parking using IoT technology.
Following the rapid development of sensory technology, many modern cities have chosen to deploy various IoT-based systems for monitoring purposes. For example, some parking programs claim that citizens get real-time information about available parking spaces with IoT smart parking systems.
Such systems require efficient sensors installed in parking lots to accommodate residential and data processing units to quickly obtain real-time data from various sources.
Some major daily parking issues include:
Lack of parking spaces, mainly in the urban area
Misuse of available parking spaces
More time and fuel/gas are used to find open parking spaces
Difficulty in finding vehicles at large parking lots
Traffic congestion is concentrated on underutilized parking spaces
Business parking lots are taken over by passenger parking
Incorrect parking
Proper management of disabled areas & unused private parking lots
The natural impact of excessive fuel consumption in search of a parking space
Unclear parking policies.
All these issues are a regular part of the parking experience in cities and towns across India. But that need not be the same way. Smart Parking System can solve the issue.
What is Smart Parking?
Smart parking system using IoT has smartphones and other sensors added into an interconnected system to determine parking space or level and provide real-time feedback. It is accomplished by using cameras, counters on the doors or gates of parking lots, sensors embedded in the paved area of ​​individual parking lots, among other locations, depending on the deployment.
Solutions using IoT-based parking
IoT-based smart parking system transmits available and occupied parking spaces via a web/mobile application.
Each parking space has an IoT gadget, which includes sensors and microcontrollers. The user gets real-time updates on the availability of all parking spaces and, therefore, an option to choose the best one. This solution alone initiates a chain-reaction of benefits, from lesser traffic congestion to reduced fuel efficiency, in urban areas where parking is often painstaking.
A basic flowchart for the whole process of smart parking IoT looks like this: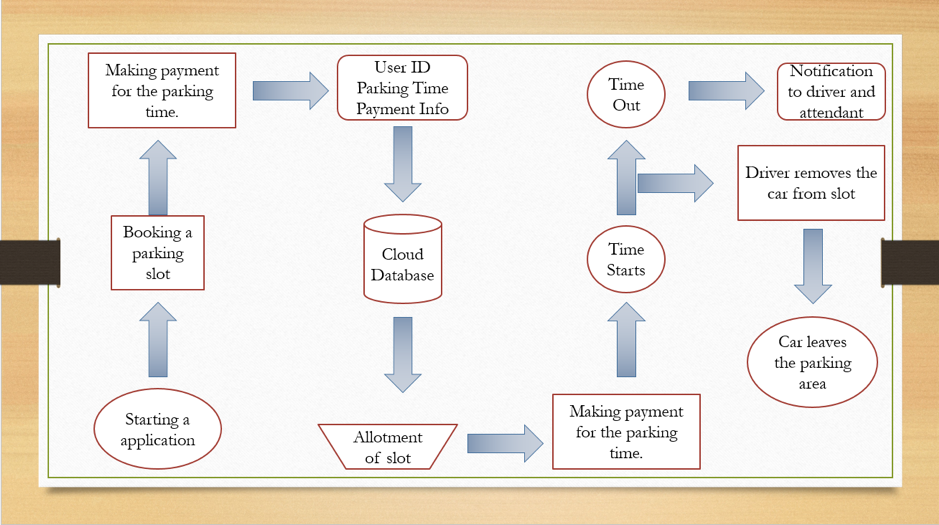 Architecture of Smart Parking System
It consists of the following components:
The role of the parking sensors is to track space in the parking lot. Ultrasonic sensors are used to detect the presence of vehicles.
The processor-on-a-chip acts as a central point between the sensors and the cloud platforms, relaying data to and from.
It is a visual interface for end-users to interact with the smart parking system.
The cloud serves as a repository for all records related to parking spaces and end-users who have access to the system.
The deployment of smart parking systems is expected to increase thanks to the rising issue of parking and reducing costs of implementing a smart parking system.
Another innovation is using visual image processing to capture a vehicle license number to identify it with the help of Optical Character Recognition technology. It then automatically opens the gate in the parking lot, and the system directs the driver to the appropriate parking lot.
The future looks very promising for smart parking systems. The technologies behind this solution are IoT, artificial intelligence, machine learning, and augmented reality. By using these new approaches, smart parking will increase the efficiency of parking systems.
Applications of Smart Parking Systems using IoT
Smart cities offer better use of space, less traffic, clean air, and more efficient public services, increasing the quality of life. In addition, smart cities provide many jobs and economic opportunities, and strong social connections.
Smart parking IoT project will help in:
The seamless flowing of traffic
Public transport routes can be adjusted in real-time according to need, and smart traffic lights systems can improve congestion.
Energy efficiency can  be improved
One can easily track down the power consumption & energy consumption by monitoring in real-time.
Cities can use technology to improve residents' safety and improve response times with the widespread use of Wi-Fi communications and IoT technology.
Encouragement of greater citizen engagement
Citizens can respond to daily problems enabling neighbors to connect and share resources to improve communities and neighborhoods.
Conclusion
The development of the Internet of Things and cloud technology opens up new opportunities for smart cities. Smart parking has always been the backbone of building smart cities. IoT-based smart parking system offers real-time slots, parking procedures, information and improves users' ability to save time on proper parking. It helps to solve growing traffic congestion concerns. As for future work, users can book parking in a remote location. GPS, reservations, and license plate scanners can be included in the future.