Amazon Prime Video is one of the leading OTT platforms in India. Its user base is more in numbers than Netflix. With categories such as Amazon Originals, movies, TV, and more, the OTT platform has something for everyone. Moreover, you can stream your favourite films in 10+ languages!
Thanks to these accommodating features and diverse content, Amazon Prime Video subscription is definitely worth it. But, what if we tell you – you can get all this and more for FREE. The free subscription will be active for over 6 months! Yes, that's true.
As our postpaid user, you can now get free Amazon Prime Video membership for 6 whole months! Watch the latest Batman movie or indulge yourself in few of the most popular Amazon Original series like Fleabag, The Boys, The Marvelous Mrs. Maisel, or others for free with our Airtel Amazon Prime offer for postpaid.
How to get Airtel Amazon Prime with Airtel postpaid?
Now that we have got you intrigued, let us spill the beans.
You can get free subscription for Amazon Prime Video with our 4 Postpaid plans. If you are already a postpaid user, your subscription will already be active. You need to claim the voucher for the same to activate the free subscription. We will discuss how to activate Amazon Prime with Airtel postpaid further in the article.
If you are not an Airtel postpaid user, you can take a new postpaid connection to get this and other free memberships. Believe us, the Airtel postpaid Prime membership is worth getting a new connection. We will discuss how to get a new postpaid connection shortly.
Firstly, let's look at the postpaid plans which offer Amazon Prime membership at no extra cost.
Amazon Prime Airtel Postpaid plans
Airtel postpaid offers 5 different plans for the postpaid users. Out of which 4 plans offer Amazon Prime Video free subscription.
Please refer to the below table.
POSTPAID PLAN VALUE (Rs.)
OFFERINGS
AMAZON PRIME VIDEO
399
40 GB data
100 SMS per day
Unlimited local and STD calls
Airtel Xstream App1 connection
No
499
75 GB data
100 SMS per day
Local and STD calls – Unlimited1 connection
Yes
999
1 regular and 2 Free add on connections
100 SMS per day
Unlimited local, STD calls
Yes
1199
3 connections (1 primary and 2 add ons)
150 GB data
Calls – local and STD unlimited100 SMS per day
Yes
1599
1 Primary and 3 add on connections
250 GB data
100 SMS per day
Local and STD calls – unlimited
Yes
All Airtel postpaid plans come with a Data Rollover feature. The Data rollover feature allows you to carry forward the remaining data of a month to the next month. The data rollover limit for Airtel postpaid users is 200 GB for all plans.
Once you have chosen for one of the above plans, you can activate your Amazon Prime membership easily. Make sure the plan you choose offers Amazon Prime membership.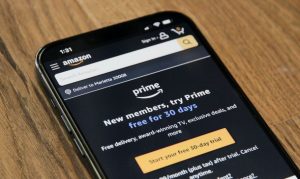 How to activate Amazon Prime with Airtel Postpaid?
The Airtel postpaid prime subscription is an Airtel Thanks Reward. Therefore, it can be claimed via the Thanks app.
Follow the below steps to avail your free Amazon Prime membership:
Once you have taken the new connection, please download the Airtel Thanks app from Google Play Store or Apple App store.
Register and login with your number.
The Airtel Thanks app helps you to keep track of all your active services. Your postpaid connection will also be available here to manage the account. Locate the profile icon on the home page. It will be on top right corner of the app screen. Click on it.
Now scroll to find Thanks Benefits option in the listed menu. Click on it.
You will be redirected to the Airtel Thanks rewards and membership page. Right on the top, you will see 'Your rewards have a new home!' option. Click on 'Check now' button present against it.
The Airtel Rewards page displays vouchers of all the free memberships or subscriptions you can claim. As a postpaid user, you will see Amazon Prime Video subscription for 6 months voucher here.
Click on the 'claim now' button. Your voucher is now claimed.
Now download the Amazon Prime Video app or open it in web to login. Use the same postpaid number to login into the app. You will see that the free membership has been activated.
Voila! Now enjoy unlimited shows on Amazon Prime. Thanks to your Airtel postpaid connection.
More Airtel Postpaid benefits you can explore
Our postpaid benefits don't end at Amazon Prime Video subscription. Here is a list of other benefits you can avail with your postpaid connection:
Disney+ Hotstar Mobile Edition for 1 year at no extra cost
Handset Protection
Lifetime access to Wynk Premium
Airtel Xstream app membership
Netflix Basic and Standard monthly subscription
Please check the plan details thoroughly to know more about the additional benefits.
Moreover, Airtel Postpaid connection gives you the best connectivity along with features like unlimited calls, free add-on connections for your family, big data cap, data rollover for unused data, and most importantly, a single bill for the entire family!
Switch from Airtel prepaid to postpaid
If we have got your attention, let us tell you, it is quite easy to shift from Airtel prepaid to postpaid. All you need to do is visit our Airtel official website. Navigate to Airtel postpaid>switch prepaid to postpaid. Choose a plan which suits you the most and click on buy.
Now just enter your details like mobile number, address, etc. A customer executive will contact you within a day. The last step is to complete the KYC. Don't worry! Our executive will visit you at your address as per your convenient time to complete the KYC. Keep the relevant documents ready. Once the doorstep KYC is complete, your sim will be delivered to you for free and activated within 48 hours.
Wrapping up
Once your postpaid connection is active, you can activate all the free subscriptions using the steps mentioned above in the article. For your monthly postpaid bill payment, you can just use the Airtel Thanks app. Keep a look out for all the discount and cashbacks offers active for you in the Thanks app to save more money!