International calls are a little more difficult to make than any local calls. Reaching out to your loved one who stay abroad can be hard if your mobile phone doesn't have an active international roaming pack for both outgoing and incoming calls. Therefore, you need to choose the best network provider in your region and do a prepaid IR recharge. As the leading telecom partner in India, we offer international roaming prepaid mobile plans which cover over 300+ countries!
If you are planning to call your loved one or your relatives in South Korea, the process is slightly complicated! Don't worry, we have got your back. Connecting people across continents is our job as your telecom partner!
So, let's get right into the details of how to make calls to Korea: both South and North Korea.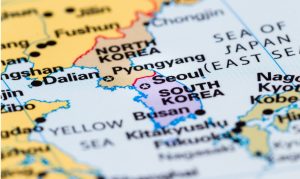 Steps to make a phone call to South Korean phone number
Making international calls can be expensive, therefore, you need to plan ahead of the call.
Find your country's international prefix code
The International Communication Union assigns international prefix codes to every country. For example: India's prefix code is +91. Similarly, the United States has +1 as their country code.
These codes help people to recognize from where they are receiving a certain phone call. Also, you need to know your country's international code to make an international call.
Conduct a Google Search to find your country's international prefix code. You need to enter the same first in your dial pad to call a Korean phone number. Or make a call to basically any other international country.
Either type in +X or +XX (depending on the code) or just long press '0' on your dial pad instead of writing the whole code (if 0 has a small + sign present).
Exit code
Many people often think it is important to mention your exit code to make an international call. These exit codes are used to inform the service providers that the user is making an international call. But, if you use the + sign and your country code, it will be sufficient to tell that your call is intended for an international destination.
Enter South Korea's country code
Given that you want to place an international call to a Korean phone number, you need to use South Korea's country code too.
The country code for South Korea is 82. You need to enter this right after your country's international prefix code.
Entering the Korean phone number
Most of the South Korean's phone numbers start off with 0 as a prefix. The phone numbers can be 9-10 digits long.
When you are entering the number after the country codes, remember to remove the 0.
Example: The number starts with 020, remove 0, and start typing from 20…
Hit dial!
After entering the phone numbers, just hit dial to make the call.
Your call will look something like this: 91-82-XX-XXX-XXXX
91: India's international prefix code
82: South Korea country code
9 digits Korean phone number
Make sure you have an active International Roaming pack with Airtel prepaid plans. We offer the best prepaid plans in India.
You can do an international roaming easy mobile recharge using our Thanks app or directly from the app.
Now, let's say you want to make a call to North Korea. We all know how strict the regime in North Korea is. Therefore, it is extra complex to make international calls.
Here are a few steps you can try to place a call to the country. Know that the drop and call diverted rates are quite high.
Steps to make a call to North Korean phone number
Follow the below steps:
Check the North Korean phone number first
International calls can only be received by individuals who have a phone number starting with the prefix 381. The 381 here represents that the number is for embassies and international businesses. The civilians don't use the 381 prefixes.
Also, if the number you have begins with 382, you can't use an international phone to call.
If your loved one is visiting North Korea, they can only use a local sim card.
Enter your country code
Start off by entering your country code. This step is similar to South Korean international calls.
If you are from India, type in 91 first as your country code. In case, you are calling from UK, you can put 00 as the country code.
North Korea's country code
The next step is to enter North Korea's country code. It is 850. Unlike South Korea, here you will need to add area code too.
You can type 2 after 850 as the area code. All international North Korean phone numbers have this area code.
The Korean phone number
Now you can put in the Korean phone number here. It is usually 7 digits long. It includes the 381 code.
The call to North Korea will look like this: 00-850-2-381-XXXX.
(If call is placed from UK)
If your call is dropped, double check the number and try again, if you still can't reach out, try emailing.
Our International roaming prepaid packs for South Korea
For making outgoing calls, you need to have an Airtel ISD pack. A call to South Korea will cost you Rs. 12 per minute.
As mentioned above, Airtel offers international roaming for more than 300 countries. For unlimited incoming calls, you can use the below packs.
Here is a list of our affordable prepaid mobile plans which you can use if you call South Korea often.
PACK PRICE (Rs.)
VALIDITY (days)
DATA
BENEFITS
649
1
500 MB
Unlimited incoming mins

100 Outgoing mins

799
30
0 MB
100 mins free local outgoing calls, incoming calls, and calls to India
1199
30
5 GB
100 mins free local outgoing calls, incoming calls and calls to India
3599
10
3 GB
Unlimited Incoming Mins

250 mins Outgoing (India + Local)

100 Free SMS

8998
180
0 MB
Unlimited Incoming Mins

3600 mins Outgoing (India + Local)

100 Free SMS

4999
10
1 GB/day
Unlimited Incoming Mins

500 mins Outgoing (India + Local)

100 Free SMS

14998
365
0 MB
Unlimited Incoming Mins

7200 mins Outgoing (India + Local)

100 Free SMS
Get an international roaming pack to stay connected with your loved ones. Or recharge your phone with our ISD packs to make outgoing calls to a Korean phone number using above simple steps!