The space of entertainment has been growing by leaps and bounds in today's advanced world. Satellite television, radio, and other broadcast services are no longer the only forms of entertainment. It is because the way we consume content has dramatically changed in the last few years, especially, since the arrival of streaming media services. These streaming platforms have paved new paths for daily entertainment and hence, people today have a wide range of options to choose from and a variety of shows and programs to enjoy.  One of these video streaming services Netflix is an OTT platform based in California with a subscriber base of more than 220 million people across the world. Well, that's quite a big number to acknowledge. And this is the reason it has become a significant part of pop culture. No wonder, it is touted to be the biggest streaming services provider in the world. And now, you can watch Netflix on TV!
Though you can connect to Netflix using PCs, laptops, smartphones, and tablets, enjoying it on a big screen is pure satisfaction. Use the Airtel Xstream box and plunge into a world of amusement. Here, we are going to let you understand how to connect Netflix to TV or how to cast Netflix on TV.
What is Airtel Xstream box?
Airtel Xstream Box is a streaming media android box that converts your normal TV into a smart TV. It is a DTH television box that allows you to watch HD & SD TV channels, also provides you with streaming media services such as Netflix, YouTube, and Amazon Prime. In short, it enables you to watch broadcast channels as well as online content.
Connect it to your TV and get ready to watch your favourite show or movie on Netflix. As it works with internet, you would require a high-speed hotspot or Wi-Fi connection to avail the service.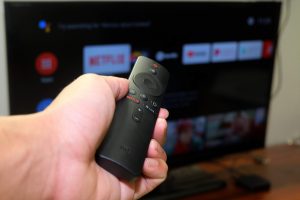 How to connect Netflix to TV?
You must have a device with Netflix app to connect Netflix to the television. If you have a smart TV, then you need not worry about any device. Just go to the homepage and you will find the Netflix app. However, if you have a normal TV, you will require either a streaming player device or a mobile device to connect Netflix to your television.
How to connect Netflix to TV using Airtel Xstream Box
Airtel Xstream Android Box is a perfect option to go with as it offers multiple features to its customers and is one of the most affordable ways to watch Netflix on TV. Apart from providing satellite channels, it gives you access to OTT apps and LIVE TV programs. With the help of its inbuilt Wi-Fi & Bluetooth system, connect to your speaker and enjoy music. The inbuilt Chromecast system helps you cast your phone content to the TV. It also has Google search voice function.
Connecting Airtel Xstream Box to TV is an easy process as it is a plug-and-play task.
Connect all your TV cables to Airtel Xstream Box
Click on the 'box' button on Airtel smart remote
The Airtel Xstream homepage will be displayed
Connect to a Wi-Fi network for the internet
You are all okay to have access to Netflix and other apps on TV
How to cast Netflix on TV from mobile phone/tablet?
To cast your Netflix content on TV from mobile/tablet, you need to have a smart television as their built-in Chromecast technology helps in the casting of your mobile screen.
Connect your television and phone to the same network
Open the Netflix app on your phone
Click on the cast icon given at the top right corner of the screen
You are all good to enjoy Netflix content on the big screen
If you have a normal TV, you can still cast or screen your mobile content on TV. However, you would need to use external cables or download Wi-Fi display apps to do it.
How to install Netflix on TV?
Though most of the smart TVs' today are Netflix-ready and come with the app, you can always download the Netflix android TV app from the TV store, if it is not available.
Go to the TV store or Google Play store to download the app
Once you open the app, an activation code will appear on the TV screen
With the help of your laptop or mobile phone, visit the Netflix activation page and enter the code
You are all good to watch Netflix on TV.
So, this is how to connect Netflix to TV. All geared up for the entertainment adventure? Take a dive now!
Movies and shows to watch on Netflix
Netflix offers its customers an extensive range of TV shows, movies, documentaries, talk shows, award-winning pictures, and more.
The best movies to watch on Netflix include Dunkirk, The Lunchbox, The Bleeding Edge, Once Upon a Time in America, Forrest Gump, A Beautiful Mind, Masaan, 12 Years a Slave, and more.
The best shows to watch on Netflix include Stranger Things, Never Have I Ever, Echoes, Breaking Bad, Narcos, Squid Game, Delhi Crime, and more.