Benefits of Personal Loan -
Airtel Flexi Credit
Get a loan on your terms. Choose from flexible EMI and tenure options.
100% digital process
Submit all your details online and any documents, if needed

Instant approval
Get your loan application approved within minutes

Flexible EMIs and tenure
Choose the loan amount, tenure, and EMI amount as per your need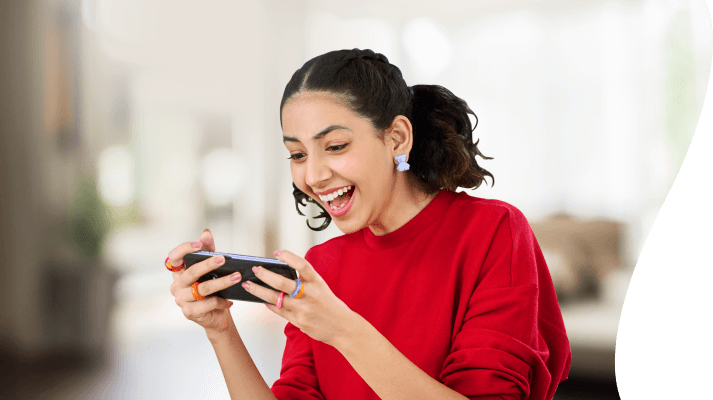 Airtel Personal Loan -
Lending Partners
Airtel has joined hands with some trusted RBI regulated banks and NBFCs to offer flexible personal loans with the option to choose loan amount, tenure and EMI amount to suit every customer's need.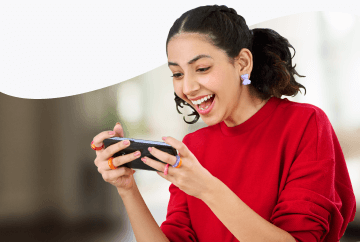 Get Airtel Personal Loan
in 3 simple steps
Login using your
mobile number
Fill in your PAN details to
get the best offer
Enter bank account details to
receive the loan amount

Yay, loan approved!
Loan amount will be credited instantly.
Personal Loan EMI Calculator - Airtel Flexi Credit
Calculate your personal loan EMIs and interest rate easily using the Personal Loan EMI calculator.
Adjust the tenure and loan amount to know the average interest amount.
Personal loan amount
Enter the loan amount
Tenure plan
Choose your tenure plan
Rate of interest
Adjust your interest rate
Features of Personal Loan -
Airtel Flexi Credit
₹10,000 to ₹9,00,000
Flexi credit
Starting from 11.5%
Rate of interest
3 to 60 months
Personal loan tenure
Within 24 hours
Credit disbursal
No paperwork
100% online
2% to 5% + GST
Low processing fee
FAQs on Personal Loan -
Airtel Flexi Credit
How to apply for a personal loan?
If you want to apply for a personal loan from Airtel, the solution is easy. Simply download the Airtel Thanks app and register yourself on the app. Now, go to the financial services section and apply for your loan from there. You only need to provide your personal information, PAN card, and employment details to apply for the loan. Complete the KYC and get your loan handed to you in a few minutes.
What are the benefits of applying for a
personal loan by Airtel Flexi Credit?
There are multiple benefits associated with applying for a personal loan from Airtel. You get the flexibility to choose your loan amount, tenure and even the EMI amount as per your need. You get an immediate money transfer to your account; the whole process is quick and completely cashless too. All you need is the Airtel Thanks app to get it done.
What is the maximum amount of
personal loan I can borrow?
With the help of Airtel's long-term instant loan offer, you can borrow a sum of up to ₹9 lakhs. To avail of this offer, make sure you provide accurate documents so that you can avail of the best offer instantly.
What are the documents required to get
a personal loan?
To get a loan from Airtel, these are the documents that will be needed from you – your basic information, such as name, address, PAN card number, and employment type. Following that, you will need to complete the online KYC process.
What can a personal loan be used for?
A personal loan can be used for anything, and that is where it gets the name from. Thus, how you use your loan amount is completely personal. Whatever the reason may be, you can always obtain a personal loan from Airtel. Be it home renovation, wedding, travel plans or anything else- you will get a personal loan to fulfil every need.
What are the eligibility criteria to get a personal loan?
There are no criteria as such to be eligible for a personal loan. Basically, everyone can apply. Just provide us with accurate information.
How does personal loan approval work?
Personal loan approval can be done in an instant provided that you have given the accurate documents. Once the KYC process is completed and the user passes the approval stage of the loan, the money is sent to his respective bank account within minutes.
How can I repay my personal loan
amount?
Repaying your personal loan amount is also quite easy. All you have to do is download the Airtel Thanks app. From here, you track your EMIs, your payment history, and upcoming payments. Those options will help you easily repay the amount that you are meant to, regularly. From applying for loans to repaying your owed amount – everything is made easy at Airtel Thanks.
How to track my personal loan
application status?
Keeping track of your personal loan application is also extremely easy. Just download the Airtel Thanks app and you will have one app for everything Airtel. You will be regularly notified of your upcoming payments and loan offers. Just go to Airtel Finance on the Airtel app, and get a cohesive view of your Airtel credit, including personal loans.
How can I calculate Personal Loan
Interest rates?
The personal loan rate of interest is calculated on a monthly basis (i.e., R= Annual rate of interest/12/100).
What is the minimum salary required
to apply for a personal loan?
You do not need to have a minimum salary requirement to apply for a personal loan with Airtel. Just make sure you are entering complete and accurate information when you are submitting your documents. The KYC process will look into it and provide you with the loan soon enough.
How to calculate EMI on a personal loan?
The EMI for your personal loan depends on the loan amount, tenure, and rate of interest. You can use the personal loan EMI calculator to know your average EMI.
What is the reason for the rejection of
my personal loan application?
In case your personal loan application has been rejected, it means there is some problem with the data that you have entered. It could also be true that you didn't pass the KYC check. You can apply for a personal loan once again with the correct information as required.
How long does it take for a loan amount
to be credited?
Once all your documents are verified, the personal loan amount gets credited in no time. Just ensure to provide accurate information. After the KYC, if everything is found perfect, loan disbursement takes absolutely no time.
Do I require a good credit score to
get a personal loan?
Yes, you will need a CIBIL score of more than 680 to be applicable for a personal loan. A majority of banking institutions accept loan requests at this number. Therefore, if you have this credit score, then getting your loan approved will be very easy.
What are the terms for the pre-payment of
the loan?
DMI Finance: After 5 days, there is a pre-closure charge of 2% + GST on Balance Principal Outstanding + Accrued Interest + Charges (if any)
For raising this request, the customer needs to contact DMI customer care team either through the following channels:
1. Portal - https://portal.dmifinance.in/
2. WhatsApp - 9350657100 (https://bit.ly/DMIFINWA)
3. Email - customercare@dmifinance.in
4. Voice Support - 08064-807-777 between 9:00 am to 8:00 pm from Monday to Saturday.
What will happen if I don't pay back
my loan amount on time?
Not paying your loan amount back on time attracts a hefty amount of fine. That is why it is always a good idea to pay back your due loan amounts right on time.
How to cancel my personal loan
application request?
The cancellation window differs for each lending partner. Each partner offers you the facility to cancel your loan application request. However, cancellation charges will apply and may differ for each partner.
To raise a loan cancellation request, you can refer to the details below and write to the partner directly at the given email addresses.
Partner
Days to cancel request
Charge levied
Email Address

Partner

Moneyview

Days to cancel request

Within 3 days (72 hours of disbursal)

Charge levied

None

Email Address

care@moneyview.in

Partner

DMI

Days to cancel request

Within 5 days

Charge levied

None

Email Address

customercare@dmifinance.in
How to update the details on my
personal loan account?
To update details on your personal loan account, you will have to get in touch with the Airtel customer support team. The customer support team is extremely helpful and will guide you on how to update details, without any worries.
How do I contact customer support for
loan queries?
You can reach out to Airtel customer support from the Help section of the Airtel Thanks app for loan queries. Our customer support executive will guide you through your doubts. Otherwise, you can simply call 121 and inform the agent about your issue.
Who is the lender offering loan through Airtel?
Moneyview (WhizDM Innovations Pvt. Ltd.)
Grievance officer details
Name - Mr. Venkatraman Narayan
Email Address: grievance@moneyview.in
Address: No. 17, 3rd Floor, Survey, 1A, Dr Puneeth Rajkumar Rd, Kadubeesanahalli, Bellandur, Bengaluru, Karnataka 560087
Phone Number: +91-8045692002
Timings: 9:00AM to 6:00PM (Monday to Friday)
DMI finance
Grievance officer details
Name - Ashish Sarin
Designation - Senior Vice President - Customer Success
Email Address: head.services@dmifinance.in/grievance@dmifinance.in
Address: Express Building, 3rd Floor, 9-10, Bahadur Shah Zafar Marg, New Delhi-110002
Contact No.: 011-41204444
Axis Bank
Grievance officer details
Name - Mr Soumitra Roy
Designation - Senior Vice President - I
Contact number - 08061865200
Email address - nodal.officer@axisbank.com
Address - Axis Bank Limited, NPC1, 5th Floor, Gigaplex, Plot No I.T.5, MIDC, Airoli Knowledge Park, Airoli, Navi Mumbai, Maharashtra, 400708
How to contact Airtel Nodal officer in case
of any grievances?
In case of any feedback or concern or request please reach out to our Grievance Officer
Mr. Nitin Grover
Designation: Nodal Grievance Redressal Officer
Email: nodalofficer.loans@airtel.com
Address: Airtel Center, Plot no. 16, Udyog Vihar Phase IV, Gurgaon - 122015
What are the Terms and Conditions and Privacy Policy for Airtel Flexi Credit?
Articles related to Personal Loan
Why go for Airtel Personal Loan?
No one can predict when a financial emergency may arise. Even if you have a healthy amount of funds marked for an emergency, it might still fall short. Such is the uncertainty of life. Be it the fund for your retirement plan, weddings, or something else, a need may arise anytime and at such times an instant loan can help lighten the burden. A personal loan can be of great support for
Consolidating other debts and refinancing
Renovating the house or a section of it
Investing in schemes with higher returns
Paying for medical emergencies
Going on impromptu vacations
Shifting and instant relocation
Planning weddings
Improving credit score
Usually, it takes more than a week to get a simple personal loan approved from the bank. In addition to that, it might take a week or two post-approval for loan disbursal. What adds to the long wait time is a slow application process, delayed approval, lengthy KYC process, and bureaucracy. While banks have to follow due process, in an emergency one cannot wait for such a long time to get funds. Thus, the need is for a personal loan that is easy to apply for, requires minimal documentation, and gets instantly approved. Enter Airtel personal loan! You can get a loan ranging from ₹5,000 to ₹9,00,000 within 24 hours of document verification. Just check your eligibility to get a personal loan online and once approved, the loan amount will be credited to your account instantly.
Benefits and features of Airtel Personal Loan
Let's look at some of the benefits that applicants can avail.
Interest rates as low as 10.49%
Flexible tenure ranging from 3 to 42 months
No documents required
Instant loan disbursal
Very low processing fee
Loan amount ranging from ₹5,000 to ₹9,00,000
100% Paperless and digital process
Once you have decided to apply for the loan, the first step to check eligibility is by entering your PAN details in the form. If you are eligible for the loan, you will be able to see personal loan offers from various lending partners. You can also check the average EMI and interest rate that you will have to pay for a given loan amount. On the EMI calculator, set the loan amount, choose a tenure, and then compare the interest rate that one might have to pay for a certain period. So, get your personal loan and use it wisely.