Why go through the hassle of doing multiple recharges every month when you can just get a postpaid plan to manage your bills just once a month?! Postpaid plans offer users to use the mobile services before making the payment for the same. You just need to find a network provider which provides you a postpaid plan suited for your needs. A postpaid sim card will be given to you after you get a postpaid connection. But, what if we told you that you can get Disney+ Hotstar with Airtel Postpaid?
With us, you can get the new sim delivered to your doorstep for free. Moreover, if you want to switch from prepaid to postpaid, just head over to our official website or download the Airtel Thanks app to log the request. Our executive will be in touch with you to understand your personal needs.
How to choose the right postpaid plan for you and your family?
Choosing the right postpaid plan can be quite confusing. Given that there are many factors to consider! You need to know understand what is your data usage every month, how many connections would you need, or are you looking for affordable personal plans? With so many factors to consider, you can end up with the wrong plan. That generally would lead to unexpected phone bills for data usage.
Here are a few things you need to keep in mind before choosing a postpaid plan:
Number of users
This is the most basic factor you need to consider before buying a postpaid plan. If you are an individual with a small family of 4, a standard postpaid family plan will be the right choice for you. You can get one primary connection along 1 or 2 add-on postpaid connections. With us, you always have the option to add more users to the plan at a nominal cost, should you want to.
Your monthly data usage
Everyone should be aware of their data usage monthly. You can keep track of the same by in-built features of your phone itself. Head over to the settings section and find mobile data or data usage option. You can find how much data you use on daily basis and how much you have for the whole month. This will help you to understand the amount of data you would need when you get a postpaid connection.
Check all the plans available on our website and choose the one which matches your needs. If you have a big family, it's better to get a big family plan with around 250 GB per month. Also, make yourself aware of the data every app uses to manage its usage.
Additional benefits
Before purchasing any plan, you should always compare the extra benefits provided with the plan. With all our postpaid offers, you get several exciting benefits. We will mention them in detail later.
Data Rollover policy
Often, users are unable to finish their monthly data limit. Data rollover policy allows users to transfer the remaining data to the next month. It helps in never wasting any data you pay your money for!
Now that you know how to choose the perfect postpaid plan for you, let's answer your query!
How to get Disney+ Hotstar with Airtel postpaid?
As mentioned above, every postpaid plan with Airtel offers many additional benefits to the users.
The benefits include subscription to OTT platforms along with free add-on connections, and handset protection.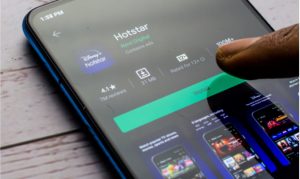 If you want to get Disney+ Hotstar for free, you need to subscribe to the following postpaid plans.
The 499 Plan
The 499 plan is an individual postpaid plan. It comes with 75 GB of total data and free 100 SMS per day. All of your local, STD, and roaming calls will be unlimited with the plan. So, no worries for exhausting your mobile recharge!
OTT Benefits:
Along with this, you will get a free subscription to Disney+ Hotstar Mobile edition worth Rs. 499 for a whole 1 year!
Not just that, you will also be eligible for Amazon Prime membership of total 6 months for free.
Other benefits include:
Handset protection
Lifetime access to Shaw academy (for online upskilling courses)
Wynk Music Premium subscription
The 999 Plan
Unlike 499, the 999 one is a family plan. It gives the users one primary connection along with 2 free family add-on connections.
The total data provided is 100 GB for a month. Plus, for every add-on connection, 30 GB data is added.
The calls like all other postpaid plans are unlimited (local/STD/roaming).
OTT benefits
You can get free Disney+ Hotstar with this plan too. (For 1-year mobile edition)
6 months Amazon Prime Membership is included too.
 Other benefits include:
Handset protection
Lifetime access to Shaw academy (for online upskilling courses)
Wynk Music Premium subscription
The 1199 Plan
The only difference between the 999 Plan and 1199 plan is the amount of data you get with the plan. Here, you will be getting 150 GB of data every month for all the connections along with 30 GB of extra data for each new add-on connection.
The OTT benefits including Amazon Prime membership and Disney+ Hotstar stay the same along with other offered benefits. Get fast delivery, free Prime Video, and more with the Amazon Prime membership.
However, you get an extra OTT subscription here for Netflix Basic and free Airtel Xstream app subscription.
The 1599 Plan
One of the best family postpaid plans, the 1599 plan includes 1 primary connection along with 3 free add-on connections. The data limit is 250 GB per month with 30 GB extra for each add-on connection. The calls are unlimited for local, STD, and roaming calls.
The OTT benefits include:
Disney+ Hotsar Mobile edition for 1 year
Amazon Prime Membership for 6 months
Netflix Basic edition (Monthly subscription)
Airtel Xstream app
Other benefits include:
Handset protection
Lifetime access to Shaw academy (for online upskilling courses)
Wynk Music Premium subscription
How to activate my Disney+ Hotstar with Airtel postpaid free subscription?
It is quite easy to activate your free subscription of Disney+ Hotstar. Here' how:
Get our postpaid plan
Use a number to register with our plans
After free doorstep delivery of your new postpaid sim (in case, you are taking a new sim and not switching from prepaid), activate the sim
Download the Disney+ Hotstar mobile app on your phone
Register with your number which is used for taking the postpaid connection
You will receive an OTP on your registered phone number
Enter the same, correctly in the app
Voila! You can watch live sports channels, your favourite TV shows, Hotstar originals, Disney movies, and more for free for a whole year!
Airtel postpaid Hotstar offer is one of the best offers you can get with any network provider! Be it a 499 plan or a family one, you will get Hotstar free with Airtel Postpaid easily!
Choose an Airtel postpaid internet plan good enough to easily stream from all the OTT platforms without any buffering or constant interruptions! Choose Airtel for calls, internet, entertainment and more!