These days everything can be done online, and that too with utmost ease. Even things like getting groceries or attending classes, which we never thought would be done online. So why should something as simple as an electricity bill payment become a hassle because of offline payment methods or complicated online payment channels?
That's because you probably haven't tried paying your electricity bills via the Airtel Thanks app. It literally takes you only a few steps and your bills will be paid in minutes. Moreover, you also get to enjoy Airtel Thanks rewards, discounts, cashback offers and more when you pay online through the Airtel Thanks app.
Pay Your Electricity Bill Online In 4 Simple Steps
Paying bills via the Airtel Thanks app is an extremely easy process. You just need to follow these 4 steps and your bill payments will be done within minutes: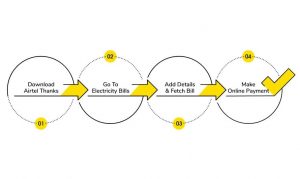 1. Get The Airtel Thanks App
First, to start with the online payment of your electricity bill with the Airtel Thanks app, you need it installed on your phone. For this, go to your Google Playstore or ioS Appstore and search for the Airtel Thanks app. Now, download and install this app on your phone. Once installed, open the Airtel Thanks App and move to the next step.
2. Go To Electricity Bill Payment Section
You can either directly fetch your bill from your home screen, or you can also get it on the "Pay" section. To go directly from your home screen, click on the "Pay Bills" section on the home screen. Now you will see options of categories such as Postpaid/Datacard, Broadband/Landline, Airtel Black Plan, Electricity, Book Cylinder, Piped Gas and Other Utilities. Select "Electricity".
Another way to reach this page is by clicking on the "Pay" tab on your home screen. Then, scroll down and choose "Electricity" from the "Recharges & Pay Bills" section. Through either of these ways, you'll be taken to the page where you can enter your details.
3. Add Details & Fetch Your Electricity Bill
Now, in the bill payment section, select the "State" that you reside in. Then, choose your "Biller" aka your electricity distributor from options such as Adani, Tata Power and various State Electricity Boards. Enter your Account Number or Consumer Number and click on "Proceed".
You will now see your electricity bill details on the screen to make your online payment. This includes details like your Customer Name, Bill Number, Bill Date, Bill Due Date, Bill Amount, Zero Convenience Fee. Now click on the "Pay Bill" tab and proceed to make your online bill payment.
4. Select Payment Options And Make Online Payment
We've reached the last step to make your electricity bill payment online. You will now see two Payment options on your screen. You can either pay through Airtel Money from the Airtel Payments Bank or, you can also add a Debit/Credit/ATM card to make your online payment.
If you already have an Airtel Payments Bank account, simply pay through that. If not, click on register and create your Airtel Payments Bank account within minutes. Meanwhile, you can also add your card details like Card Number, CVV, Expiry Date etc. and click on "Pay Now".
Now enter your OTP or UPI pink whatever is required and pay your electricity bill within minutes.
That's it! That's how simple it is to pay your electricity bills online via the Airtel Thanks app. So, the next time you get a bill, pay via the Airtel Thanks app in 4 easy steps.