Who doesn't love a fast wifi connection? With fast wifi, you can access the internet as much as you want; there are no hindrances. As a result, your social media consumption becomes easier, you get to enjoy better download and upload speed, productivity increases, and much more.
The widespread adoption of smartphones has also played a key role in increasing your consumption of the internet. With apps being developed to ensure that you spend even more time on them, your internet usage will surely increase over the next couple of years.
What is your wifi password?
Basically, a lot can be done over wifi. That is why, one of the most common questions that you can hear nowadays is: 'What is your wifi password?'. It doesn't matter where you are. You could be in the office, at someone's home, or at a café. You are still very likely to hear this question around you.
This question is so common because a lot of people are dependent on wifi nowadays. This dependency is justified. We are now living in a day and age where our internet connection can make or break our day.
A good wifi connection helps us to maintain our professional/work commitments, maintain personal relationships, helps us be more productive, and a lot more. Moreover, modern-day businesses are moving online. People have started working in hybrid or work-from-home models. Online learning is a welcome move for students and teachers alike.
Frankly put, it is quite impossible to imagine life without a strong wifi network. But have you ever wondered what does wifi actually mean?
What is wifi and speed test?
Wifi is a form of wireless technology that enables you to connect to the internet. You can use it to connect any of your devices to the internet – smartphones, tablets, gaming consoles, PCs, etc.
Wifi is a radio signal sent from your home-installed router to the connected device. This signal is transformed into data and enables you to access the internet. Usually, most people connect to the internet by using a wifi password.
Speed test helps the users know the wifi connection's speed. The report includes the download and upload speed, along with ping.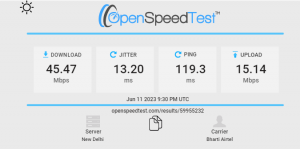 But what happens if you have forgotten the wifi password? Do not worry, here are a couple of steps on how you can still connect to the wifi network without the password.
Connect to wifi using the WPS
The term WPS stands for Wifi Protected Setup. Most modern wifi routers have this button. If the router is in the living room, then you can simply use it to your advantage to connect to the internet. Here's how you can proceed:
Go to the settings page of your smartphone.

Now, move over to the network and internet page from there.

Navigate into the wifi settings and open the advanced options page.

You will see an option here that states something like 'Connect via WPS'. Proceed to select it.

Now the WPS protocol is activated.

You will see a new dialogue box on the screen, which will instruct you to press the WPS button on your router.

Make sure you push the WPS button within 30 seconds, or else the handshake protocol will deactivate.

After your press the button, your phone will be connected to the wifi network without needing the password.
Also Read – What is Wi-Fi protected access (WPA)?
Connect wifi without a password by using a QR code
This is yet another easy way to connect to the wifi, without having to ask for the password. Follow these quick steps to connect your device:
Open your smartphone's settings app.

Choose network and internet

Click on add network, with QR code icon right next to it.

Click on that icon. Your phone's camera and QR code scanner will open up.

Now, you have to scan a QR code for the wifi connection. If there are no QR codes around, simply ask the owner of the wifi to give you the QR code.

That's all. Once you scan the code, you will be connected to the wifi.
Connect wifi without a password by using the DDP method
You can also use the device provisioning protocol (DDP) method to connect your device to wi-fi. Also named as wi-fi easy connect, here are the steps for it:
For Android devices
Open Settings app, go to network & internet.

Choose Wi-Fi and open the QR code scanner.

Use your smartphone as the configurator and scan any device with the QR code.
For Apple devices
Open the camera app.

Scan the QR code on the configurator.

Click on 'Join Network'.
No need to conduct speed test anymore! Choose Airtel Xstream
Looking to buy a new broadband plan? No need to search internet connection near me on Google. You will only get lost. Instead, choose Airtel Xstream and you will be delighted with our services.
With our super strong network connectivity, you will never have to conduct a speed test anymore. The hyper fast internet speeds will be there for you to see. Airtel Xstream can go up to speeds as far as 1gbps. Switch to the superior network today and experience blazing fast internet round the clock.