OTT has emerged has the next big thing. Nowadays, people are no longer just sticking to the soap operas or movie channels for their entertainment. Instead, OTTs are steadily eating into the industry. Such has been its impact that some movie producers even launch their movies on OTT platforms, instead of theatres. While DTH still stands at the top spot, it is widely considered that OTT, and OTT TV box will soon take its throne.
Now, you are probably aware of all these developments in the industry. Chances are high that you might be someone who has completely shifted to OTT as well. But, watching OTT on your laptop or smartphone – isn't that uncomfortable? Sure, you get the benefit of watching your favourite series on the go, but wouldn't it be so much better, if you could watch it on the big screen. If the answer to this is a yes, then here's our blog to tell you how to watch OTT content on television.
Curious to know how this is made possible? Read on, to find out more.
How to watch OTT on TV
If you are eager to watch OTT on your TV, then we have two different suggestions for you to choose from:
Get a smart TV
Technology has been constantly evolving, and with so many new innovations, things have only gotten better. The smart TV is a rather recent innovation, but one that has gained popularity like wildfire. Indeed, almost everyone out there is on the rush to get the very latest smart TV. The excitement behind getting one is quite understandable too – a smart TV has its very own operating software. This paves the way for a smoother TV experience. Add to that, the benefit of being able to watch OTT on it, and you just know that there is an immense demand for it in the market.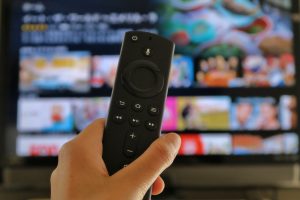 But getting a smart TV is heavy on the pocket
However, smart TVs are not really that cheap. After all, since they are jam-packed with state-of-the-art features, companies can justify their price tags. But, if you do not have that kind of a budget to go after a smart TV, should your dreams of watching OTT on the TV be left alone? The second option that we have is much better, and cheaper as well.
The Android TV box
The Android TV box or just an OTT TV box is a set top box that is devised upon the Android Operating System by Google. This technology replaces your older set top box and turns your regular TV into a smart TV. These Android set top boxes are equipped with all the features that you would rather expect from a shiny, brand new smart TV. Furthermore, the OTT TV box price has also been kept at a fraction of the price of a new smart TV.
Getting an Android TV box is a better choice
As a result, getting the Android TV box to watch OTT internet TV makes so much sense. Now, if you search the market, you will come across a wide variety of OTT TV providers in the market. But not all of them live up to their high promises. But when you choose the Airtel Xstream smart TV set top box, you just know you are getting the very best deal. Why? Let's have a look at the features of the OTT TV box.
What are the features of the Airtel Xstream Android box?
You get access to more than 5000 Google Play Store apps. Apps such as games, OTT platforms, music streaming and other platforms are now easily accessible on the Airtel Xstream box.
All the smart TV features that you would expect are there – smart voice controls, built-in Chromecast, latest Android version, a smooth Google TV user interface and more.
You will also get more than 500 TV channels and can watch them in 4K picture quality.
In addition to all these, you will also get free access to a large number of OTT platforms, such as Amazon Prime Video, Sony LIV, Eros Now and many more.
Hence, you can see that with Airtel Xstream smart TV box by your side, there will never be a dull moment while watching any OTT content.
What are the latest movies to watch on OTT?
Looking for the best movies to watch on OTT? Here's a list:
Disney+ Hotstar: Avengers Infinity War, Ford Vs Ferrari, Toy Story, Jojo Rabbit, Black Panther, and others.
Netflix: Catch Me If You Can, the Hangover series, Insidious, Cast Away, Fight Club, and many more.
Amazon Prime Video: Top Gun Maverick, The Northman, Minions, and lots of other movies.
To experience all these on your TV, now is the time to switch to Airtel Xstream.