Gone are the days when you had to play your favorite games on your mobile phone or desktop/laptop. With the launch of Android TV or smart TV boxes, you can enjoy playing Android games on your big TV screen. If you're excited to try it out, we have mentioned the list of best Android TV games right here. So, let's get started!
Badland
The widely loved game, Badland has received a rating of 4.5 out of 5 on Google Play from over 1 million gamers. Badland is an atmospheric side-scrolling action platformer set in a forest full of various trees, flowers, and inhabitants. Even though the forest looks amazing, it is extremely dangerous. As a player, in the game, the objective is to cross the level while dodging obstacles and collecting power-ups.
On your Android TV, the minimal graphics of the game look realistic and amazing. You can play it with a gamepad or with the Android TV remote control.
BombSquad
As the name suggests, BombSquad supports many different gameplay modes, including single-player or multi-player.  The game also has a 4.5 rating out of 5 on Google Play. The game has a number of levels, and the only aim is to kill all your friends' characters. It is quite entertaining even when you play as a single player.
To enjoy it a little extra, we recommend you connect a keyboard to your Android TV instead of a gamepad.
Beach Buggy Racing
Beach Buggy Racing has a 4.5 out of 5 rating on Google Play. It is a racing game that can offer you endless enthusiasm throughout. In the game, you need to control the beach buggy that you're supposed to be racing. While playing, you can pick various power-ups, including things like a rocket to kill your opponent. Also, to protect yourself from such blasts, you can get shields.
The game is perfect for almost all age groups as it is not that complicated.
Dead Trigger 2
Dead Trigger 2 has a rating of 4.6 out of 5 on Google Play. It is another zombie apocalypse game and is based on first-person survival. At the start of the game, you're in a post-apocalyptic world filled with zombies. In the game, you'll be armed with just a melee weapon and a handgun. You also get a chance to unlock other weapons later in the game.
Asphalt 8: Airborne
Ideally, Asphalt 8 is one of your all-time favourite mobile games, but with an Android TV, you can enjoy the game on the big screen with more realistic graphics and vibrant colours. It has a 4.5 out of 5 rating on Google Play. In this game, the focus of Airborne is on jumping and eventually winning that way.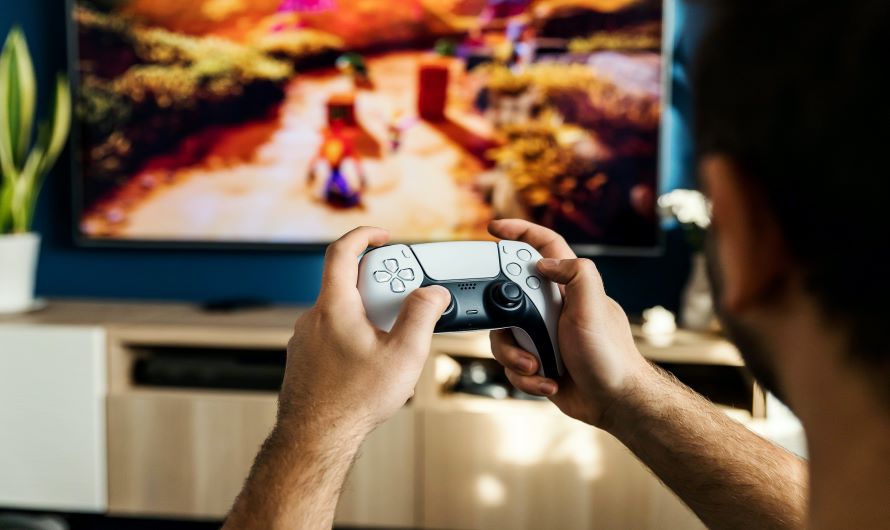 Fast like a Fox
Fast like a fox can keep you entertained for several hours. It is a level-based, side-runner game with a 4.4 rating out of 5 on Google Play. As a player in the game, you're responsible for finding all the treasure of foxes which has been stolen. And while doing that, you must be as fast as possible. While playing, you can also collect coins and gems.
Moreover, as the game is easy to understand and play, even kids can enjoy it. Install it right away!
Implosion
Implosion has a 3.7 rating out of 5 on Google Play, and it comes with a storyline. Mankind is on the brink of extinction, and your end goal is to save everyone. It is a decent hack-and-slash game available for Android TVs which brings endless adventure. As a player, your main attack in the game is melee, your sword. The game feels more exciting on TV than on a mobile device because of the solid controls.
Real Racing 3
If you're a car enthusiast and love racing, this game is for you. It has a 4.3 out of 5 rating on Google Play. It comes with realistic graphics and real model designs of different car brands like Mercedes, BMW, Lamborghini, etc. In the game, you get to virtually experience these cars on racing tracks of different countries. The game has a multi-player mode available which will allow you to compete with your friends or family.
GTA: Liberty City Stories
This is one of the most popular games. You must have played it on your laptop or mobile, but this time, try it on your TV screen. The gameplay of GTA has been streamlined for Android TV, which not only makes it better but even more interesting. The game has 2.5 stars out of 5 on Google Play Store by 26 thousand gamers.
In the game, you aim to bring the city back in control of the Leone family so that peace can be maintained.
Ludo
If you want to enjoy those old happy Ludo game days with your family, this one's is for you. You can download it on your Android TV from the Play Store and play it with your family and friends. It is the most loved Indian game and an amazing stress buster.
Conclusion 
So, this is the list of the 10 best Android games to play on TV. In order to get these, you'll first need to install them from the Google Play Store. Upgrade your TV to a smart TV with the Airtel Xstream Android TV box and unleash the gamer within you!