The world we live in is a dynamic space. Everyday, millions of ideas are conceptualized, worked upon, and very often put in practical use. Over the span of thousands of years, the humankind has grown and developed exponentially. From the start of the civilization, if one must say, the discovery of fire and the wheel, the art of agriculture, the shift from a simple society to a complex one, to rise of communities and nations, to technology which connects, to finally, the internet. And now we are about to unleash 5G technology.
Internet, when everything changed and never looked back. The internet has allowed human beings to create a space outside of this tangible world. The online space is where our billions of ideas, tremendous amount of data, and connections live. What made this possible? Who made the entire world connected? How did we reach from traveling across continents to relay messages to sending a small text online? And then, what next?
5G or the 5th generation mobile network is finally here to prove there's a still a lot to look forward to!
What is 5G technology?
5G technology is the latest cellular technology after 4G. It is a superior cellular network that promises to connect everything and everyone including humans, machines, and devices with its superfast and reliable network.
5G promises an online world with
Extremely low latency
Multi-Gbps peak data speed, almost 20-30 times faster
Larger network capacity
Reliability
Improved availability and efficiency
Uniform user experience to a larger share of users
To put it in simple words, with 5G, more people will experience the same level of superfast internet speed, reliable network, and improved 5G network. Given that IoT or Internet of Things is becoming highly popular, 5G will supplement that effort and contribute to better smart technology for homes and workspaces.
Be it your regular Airtel postpaid bill payment or controlling a bunch of smart drones, with 5G everything will be superfast!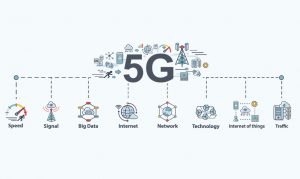 How does 5G technology work?
The 5G technology uses the similar mobile network principles as 4G. But, with a few technological tweaks. The network is based on the OFDM technology.
OFDM or Orthogonal Frequency-Division Multiplexing is the technology which helps in reducing the interference during the transmission of a digital signal by sending it across various different channels.
Moreover, 5G also uses 5G NR air interface with OFDM technology. The 5G NR technology assists in improving the OFDM technology for more scale.
The 5G technology also makes use of higher bandwidth likes 6 GHz and mmWave. Currently, only 2 frequency bandwidths, 2.4 GHz and 5.1 GHz are available. Talking about frequency bands, the 5G network is extremely flexible. It works both in low band of 6 GHz and high band of mmWave i.e., 24 GHz and above. Thanks to this range, 5G manages to offer low latency and increased capacity.
The network is not only designed as a small upgrade to 4G's mobile broadband era. Given that the world is moving towards the era of IoT setups and smart communication technology, the 5G network is made to be used in defence missions and connect large networks of IoT.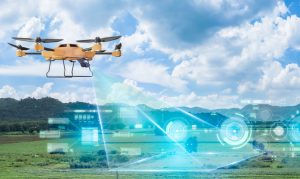 How is 5G technology different from other generations cellular tech?
To put in one sentence, 5G is far more superior than other cellular technologies. But the network definitely finds its base in other cellular technology.
The journey of cellular technology started in the 1980s.
| | | |
| --- | --- | --- |
| Cellular technology | Time period of launch | Unique features |
| 1G | 1980s | Analog voice |
| 2G | 1990s | Digital voice |
| 3G | 2000s | Mobile data launched |
| 4G | 2010s | Era of mobile broadband |
| 5G | 2022 | Unified |
The internet and connectivity will be taken to the next level. Additionally, this improved connectivity will power bigger systems like defense, transportation, healthcare, logistics, etc.
How fast 5G will be?
Airtel 5G network is going to be 20-30 times faster than the speeds that you experience today. Hence, there will be marked improvement across all the things that you used to do on the internet. Furthermore, these dramatic changes in internet speed will certainly be clearly visible. Airtel 5G internet will make accessing the web faster than anything you ever experienced before.
Moreover, 5G offers ultra-low latency. Latency refers to the delay which users experience before the transfer of data begins after the user has instructed to for the transfer. With ultra-low latency, the speed definitely improves for any task conducted on the 5G network and gives immediate response. It also helps in keeping the data speed consistent for the users.
We have been discussing the various benefits of 5G up till now. Let's also look at the other side of the coin.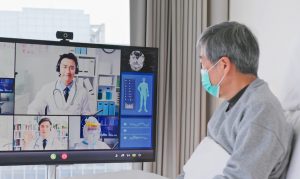 Cons of 5G technology
Every element always has 2 sides of the coin.
Infrastructure
Given that 5G is still in the testing process for many countries including India, it will take time to accommodate 5G with the existing infrastructure. Even cell phones need to be 5G compatible to receive 5G network.
Limited to metropolitan areas
Due to various factors involved in the 5G launch and implementation, the network will be limited to metropolitan areas in the starting phase. But it will not belong until Airtel 5G reaches them. Airtel 5G will be active across all the major cities in India by the end of 2023. Furthermore, it will already launch by October, 22. The Indian metro cities will have Airtel's incredible 5G network by the end of December 2022.
Airtel 5G in India: What's in the pipeline?
Airtel conducted its first ever 5G testing in 2021 in partnership with Nokia. The most recent testing happened in Gurugram. The 3500 MHz band was used in the test. When we talk about 5G technology in India, Airtel is about to launch them by the end of October, 22.  If you still do not have  a 5G enabled smartphone, then now is the perfect time to get one.
Use-cases of 5G to look forward to
As established, 5G network will transform each and every sector of this online world.
Here are a few use-cases you can look forward to with coming 5G launch in India:
Smart Healthcare: A push for telemedicine and remote surgeries with 5G network
Smart Factory: Usage of the most advanced robots, machines, AI, sensors to make a factory more synchronized and productive.
Online and Cloud Gaming: The next level of gaming with 5G. The 5G network will allow users to play various games in real time.
Defence related solutions: Smart drones and other 5G run devices can be included to strengthen the defence system.
These are just a few use-case examples. The network will undoubtedly fast-track and transform a lot of workflows, processes, and industries post its launch in India.
Usage of 5G technology across different sections
All the sections of the marketplace will employ 5G for different purposes. Here are a few examples:
| | | |
| --- | --- | --- |
| For Consumers | Business Needs | For Cities |
| IoT, boundless extreme reality, cloud gaming, easy cloud access | Industrial ethernet, smart machines and robots, AI | Automotive safety, VR, entertainment, healthcare, infrastructure |
The 5G network is the new face of technology. 'It has the potential to create up to 22.8 million jobs alone and drive around $13.1 Trillion of global economic output by 2035: Sourced from IHS report named the 5G Economy in a Post-COVID-19 Era: The role of 5G in a post-pandemic world economy prepared by Qualcomm with Omdia.'
Are you at the edge of your seat yet? Well, we are! The Airtel network is excited to make our 5G plans available to you soon both with our prepaid and Airtel postpaid plans. Stay tuned for more updates!