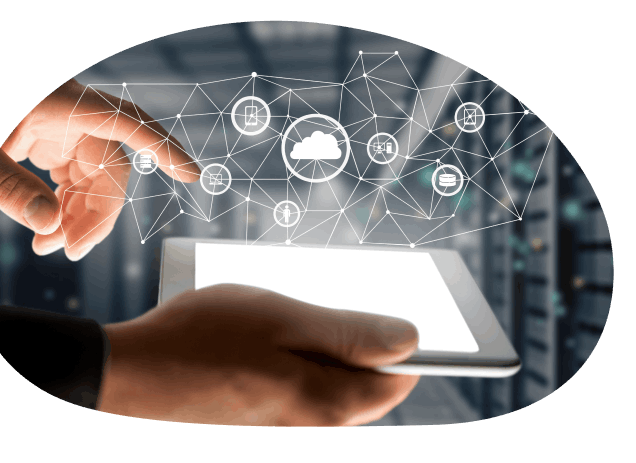 About Public Cloud
Organisations of all sizes and across geographies are rapidly adopting cloud in their core strategy to achieve the 'business from anywhere' model. Migrating to a public cloud is imperative to give your business the flexibility to survive unprecedented market conditions and adapt and thrive as the landscape around you evolves. Airtel Cloud makes it a tad convenient for you by offering cloud, connectivity and security at one place.
Public cloud capabilities for diverse business requirements

Our connectivity
Seamlessly connect, bridge and integrate your infrastructure on cloud by leveraging our tier-1, 5G-ready, pan-India network and 100+ data centres within the country. Ensure always-on business with redundant and resilient connectivity, unbeaten speed a virtually limitless capacity.

Our migration and management services
Move to our public cloud or any other in record time with our end-to-end migration services. Leverage public, private and hybrid cloud from different vendors as per your requirements without any hassle with the help of our managed services for multi-cloud environments.
Our Partnerships
We have joined forces with some of the industry leaders to deliver the best-of-breed, turnkey solutions to you.

Airtel and Oracle are co-creating
solutions for seamless migration
of your mission-critical
workloads to cloud.
view more
Working closely with AWS, we
have crafted an automated,
proven approach to migrate
your apps and data to
cloud.
view more
The Airtel advantage for a differentiated experience
One-stop solution
Get both cloud and connectivity from the same provider trusted by several Fortune-500 organisations for a hassle-free, unified experience.
Unmatched reach
Leverage the connectivity infrastructure and the network of data centres that's unparalleled in the country in terms of scale to closer to even your remotest customers.
End-to-end service
Partner with an ICT vendor that offers the whole gamut of services from conceptualisation and planning to implementation and ongoing support to be relieved to focus on your core business.
Cost reduction
Eliminate unnecessary, shadow capex and opex resulting from multi-vendor engagements and thus fuel your growth with increased investments.
Interested? Get in touch.
Put your customer experience on the fast lane with edge cloud.