Modernize your meetings for today's work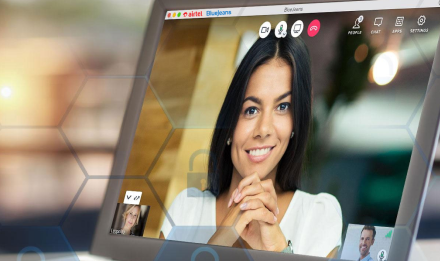 It's Secure
Enjoy peace of mind with high-grade security. We prevent unwanted participants from joining meetings and protect end-user privacy. We are hosted in India and offer 24x7 local support.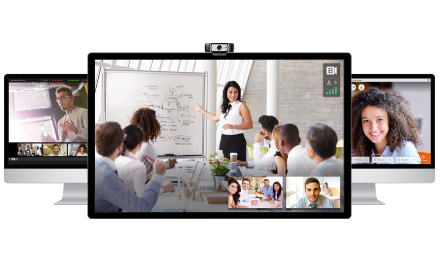 It's Simple
Experience an intuitive interface with easy content sharing. Join meetings with one touch from anywhere, without any need to download software. Access to real-time meeting analytics and live meeting controls. Convenient dial-in options from Airtel.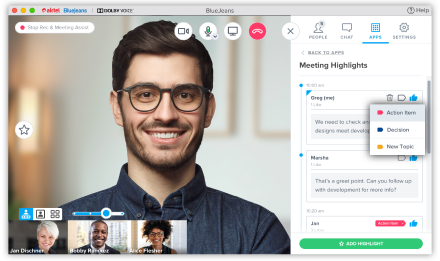 It's Seamless
Host and manage live interactive events, town halls and webcasts for up to 50,000 attendees. Ensure amazing audio and visual clarity. Capture the most important discussion points, assign action items and create time-saving highlight reels.

Register for free trial

Submit
your details

Free trial will be activated instantly

Start experiencing Airtel
BlueJeans.
Get more with

– Efficient dial-in plans
– Unmatched Coverage
– Central management and control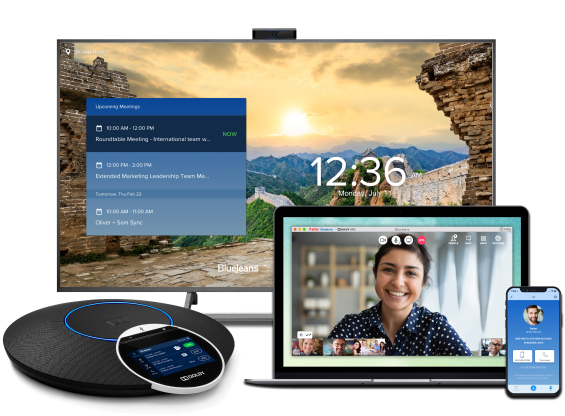 Get started with Airtel BlueJeans today
Make your conferencing platform work for you
Please check their Spam/Junk folders in addition to your inbox, for a mail from conference@airtel.com. Also please add "conference@airtel.com" and "update@airtel.com" to your "Trusted IDs" to ensure you do not miss out on any updates.
Please use the Google Chrome browser for a seamless experience. The experience on Internet Explorer and other browsers will be fixed shortly as our team is working on optimizing the same.
Yes, there can be multiple admins under the same account. The process of assigning admin rights is as follows:
Admin → Manage Users → Invite Users → Copy and Paste up-to 50 email ids at once → Click on Send Invite
Admin Access user can go to https://www.bluejeans.com/ and login using his Admin Username and Password. Once logged in, Admin can follow the below process of bulk inviting users:
Admin → Manage Users → Invite Users → Copy and Paste up-to 50 email ids at once → Click on Send Invites
End-User will receive an invite with Admin User Name as the Inviter to the app.
An Admin User can choose from either of the below options if they would not like their name to show up in new account activation mailer to end-user
Option 1: Admin User can go to Profile Settings (Click on Profile Name Logo on the top right of the screen → Click on Profile → Update their First Name & Last Name as "IT Admin" or generically similar → Click Save Changes
Option 2: Admin User can also invite the designated IT Admin of the organization as a new user and make him Admin so the Designated Admin can send invites with their Name out to the end-user. Below is the process to make another user Admin
Admin → Manage Users → View / Edit Users → Search and then click on the user who needs to assigned Admin Role → Settings & Features → Permissions → Check "Administrator" → Save Changes
Connections made to BlueJeans cloud server use the following TCP and UDP ports. For companies with managed firewalls, make sure to open these Firewall ports against BlueJeans's entire IP range:
199.48.152.0/22
31.171.208.0/21
103.20.59.0/24
103.255.54.0/24
8.10.12.0/24
165.254.117.0/24
13.210.3.128/26
34.245.240.192/26
13.251.83.128/26
104.238.240.0/21
34.223.12.128/26
35.175.114.0/26
52.215.218.0/26
13.233.177.128/26
44.234.22.192/26
18.141.148.64/26
3.25.41.0/26
3.6.70.192/26
44.234.53.0/24
15.207.34.0/24 (** New - July 2020)
The following IPs are applicable only to BlueJeans Gateway for Microsoft Teams users:
It is important that firewall ports are opened against all ip ranges shown above. If the above ports are not open, calls may connect, but can lead to quality issues with video, audio and content sharing. BlueJeans has several PoPs distributed globally and the call will be automatically redirected to the closest/native PoP to the end point or media egress point. Audio/video traffic will be routed to any of above ip range, based on geo location.
BlueJeans Desktop App & Mobile App, BlueJeans Rooms and Chrome WebRTC:
Outbound TCP Port 443, 5061 or 5000 - Call Setup Signaling and Media
Outbound UDP Ports 5000-5999 - RTP Media
Please Note:
H.323 based Room System:
Outbound TCP Port 1720 - H.225 Signaling for H.323
Outbound TCP Ports 5000-5999 - H.245 Call Control for H.323
Outbound UDP Ports 5000-5999 - RTP Media
SIP based Room System:
Outbound TCP Port 5060 - SIP Signaling
Outbound TCP Port 5061 - SIPS (TLS) Signaling
Outbound UDP Ports 5000-5999 - RTP Media
Some firewalls, such as Palo Alto Networks, prefer to filter network traffic based on the Fully Qualified Domain Name (FQDN). If this applies to your firewall configuration, then please use the following FQDN in order to connect to BlueJeans: bjn.vc
For more information on Firewall and NAT setup details, click here.
Only cloud recording is available. Airtel BlueJeans uses MP4 video format and AAC audio format.
Enteprise license comes with unlimited available space.
Multiple hosts can connect in a meeting after using the Meeting ID & Moderator passcode.
How to schedule a meeting
How to join a scheduled meeting